"Cali"
Cali is currently 2 years old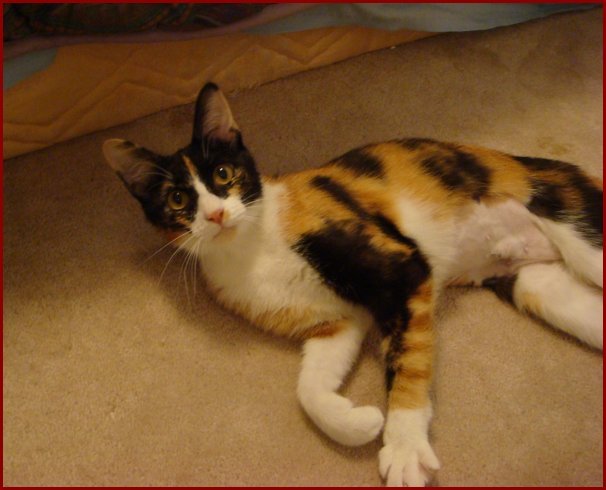 August 2011 - at age 8 months
On August 6, 2011 I was volunteering down at the Austin Street Shelter in Dallas when I noticed this gorgeous calico just outside the shelter. She was fairly shy, but she was okay with some petting. At the time I had three cats (Princess, Josie & Riley) and I was already keeping the semi-feral Princess in my bedroom because Riley wanted to play with her too much. I also figured that someone from the shelter was feeding her...so I went home. But I couldn't get her out of my mind, so I returned the next day to make sure someone was taking care of her.
I was told that a guy who works at the shelter "sometimes" feeds her, but that no one gives her water. They also said that most cats down there eventually get eaten by packs of wild dogs. I couldn't leave her there. When I approached her, she was laying on her side near an A/C compressor. She looked skinny, dehydrated and exhausted by the extreme heat of a record hot Texas summer.
I got her spayed and vaccinated - and then put her in my guest bedroom. At first she was very afraid of my hands, and she'd swat and even bite them. My goal was to befriend her and then find a good home for her. But after working with her for several days I was too bonded to her to give her away. She rarely swats me in anger now. But, unfortunately, she has an irritable streak and will hiss when she doesn't want me to pet her. She's even less cordial to my other cats; she sometimes swats and hisses at them for no apparent reason. She particularly enjoys chasing Josie (who is much bigger) under a chair. She's still a kitten - so perhaps she will outgrow some of that. And with time, hopefully she will forget about her hardscrabble past and will learn how to communicate better with the other cats. Even now they often eat together and sleep just a few feet from one another. But it may be awhile before she lets the other cats groom her (like Josie and Riley do...and Tiger and Linda did).
Below are some pictures of Cali, followed by several short video clips.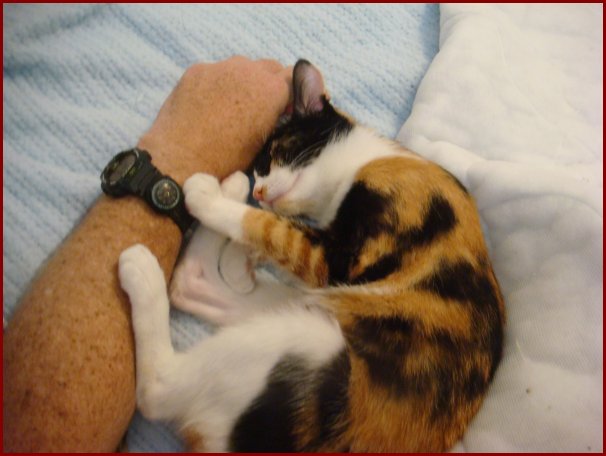 August 2011 - age 8 months
She was a tiny gal when I first found her!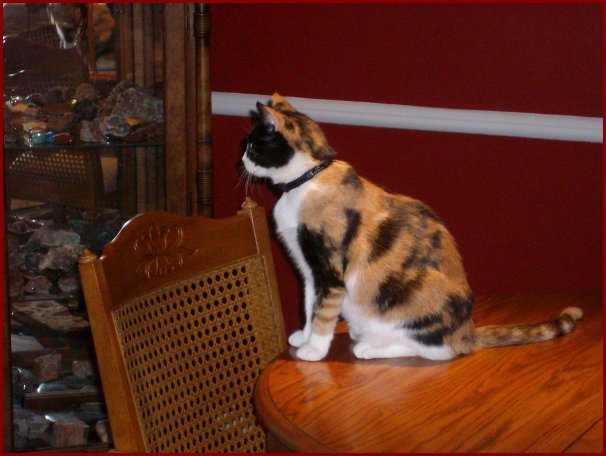 November 2011 - age 11 months
She may be a rascal, but she's a cute rascal

Windows Media Player Video Clips
If you don't have the latest version of the Windows Media Player you can get the free version by clicking
here
.

Playing with a feather (8 months) - August 2011

Being sweet - August 2011

Putting her toy in a box - August 2011

Sleeping next to my arm - August 2011

Playing "fetch" - September 2011

Other Related Links On My Site:
My Cats' Home Page
The Catrun
The Large Cat Enclosure
Catwalks Inside My House

Return to my cat page