Audio & Video Clips Of Monte Montgomery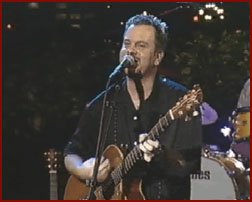 A few years ago I was channel surfing and I saw some guy playing the hell out of an acoustic guitar on a show called Austin City Limits.  It turned out to be a fellow named Monte Montgomery from Austin, TX.    He plays an acoustic guitar like it was an electric guitar.    I was blown away.   And his drummer and bass player are also extremely talented.   It's amazing that three people can make so much wonderful music.

   Below are some audio & video clips of Monte in Windows Media Format.   The Windows Media Player probably came with your computer but if you need the latest version you can get it by clicking here.    On some connections, the video may be a bit jerky as it "buffers" while streaming in the video.   In that case you might let it completely finish and then play it again.   Remember, he's playing an acoustic guitar!


Audio Clips

"Mirror" (56 seconds)

"When Will I" (45 seconds)

Video Clips

"Romeo & Juliet" (2 and 1/2 minutes) - breathtaking technique...clip courtesy of Brent Perry


"Took Too Long" (4 and 1/2 minutes) - clip courtesy of Brent Perry


"When Will I" (5 minutes) - I converted much of the Quick Time movie on the "Mirror" CD

So you think you like Hendrix's version of "Little Wing"?   Maybe SRV's version?   Well, Monte does it better - and on an acoustic!   Below are four segments of Monte and his band doing "Little Wing" at Gruene Hall back in 1998.   Each segment is two minutes long and they are fairly high quality so on slow connections it might take several minutes to "buffer" each segment.   But it's worth the wait.   All four segments courtesy of Noonie Hebert.


"Little Wing" - segment #1 (2 minutes)

"Little Wing" - segment #2 (2 minutes)

"Little Wing" - segment #3 (2 minutes)

"Little Wing" - segment #4 (2 minutes)

Various Monte Montgomery Links

Monte Montgomery's Official Website A must see


Heart Music's Monte Page A cool bio, itinerary, CD ordering info, and much more


Fan-based Yahoo Group for Monte Monte's mom and siblings often post - fun stuff


"Montiac" Quiz A little on-line Monte Montgomery quiz I created for Monte fans




Return to my home page

brad stone, stoner, brushyland, Monte Montgomery, acoustic guitar