Lake El Salto, Mexico
May 6-10, 2005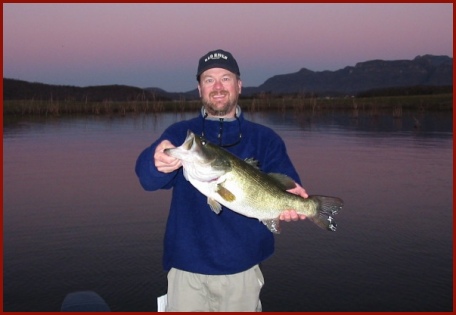 Brad Stone With A 7.0 Pounder

A few months ago I met my buddy, Jeff Cotten, at the old wooden bar at Luckenbach, TX for a couple of cold beers. It was there that I brought up the idea of finally fishing the famous largemouth bass lake down in Mexico called Lake El Salto. Well, it was sort of an ambush really. I had already planned the trip and had written down all the costs (e.g. lodging, guides, etc.). After reviewing my proposal, Jeff quickly agreed to go. LOL.

What a great trip! In just three days of fishing I caught 134 largemouth bass. My biggest was the 7 pounder shown above. I caught her early in the morning on a top water Pop-R. I also caught four more over 6 pounds, so I have five new entries on my Six Pounds Or Better page from this trip alone. I probably had another fifteen fish that were in the 4 to 5 pound range. This lake has more (and bigger) bass than even Lake Fork, TX did in its heyday. Jeff caught just about as many fish as I did and he caught the biggest fish of the trip - a 7.6 pounder. And both of us lost some monsters. I know I had a double digit bass break me off while I was working a Carolina rigged lizard. We heard that one of the other guys staying in our lodge caught a 9.6 pounder. Supposedly these numbers are very typical. Amazing.

If you are interested in the details of our trip, I included a section at the bottom of this page with info on how much it cost, what we brought, etc.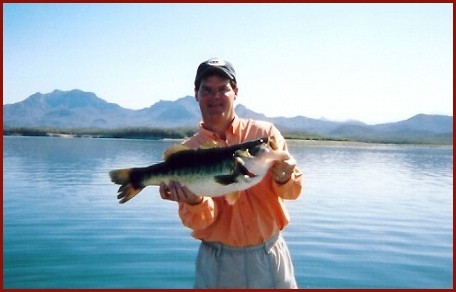 Jeff Cotten With A 7.6 Pounder

This was the biggest fish of the trip - and what a beauty! What a healthy, dark green hawg. Jeff caught her (and several others) on a crankbait. A 3/4 ounce Bomber "Fat Free Shad" crankbait in citrus color to be exact. LOL. Notice those beautiful mountains in the background?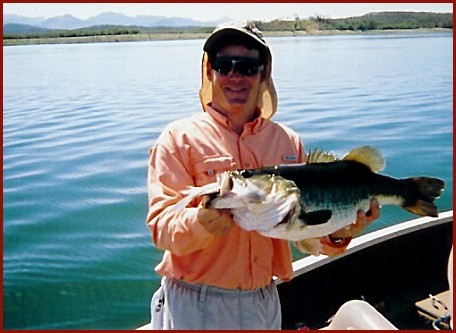 Jeff Cotten Holding A 9.2 Pounder With A Tilapia In Its Mouth

While Jeff and I were fishing, our guide spotted a large bass floating on top of the water. So we trolled over to it and got it in the boat. It was a 9.2 pound bass with a one pound tilapia stuck in it's throat! The poor gal wasn't able to get enough water over her gills with that tilapia stuck in her mouth. Incredibly, after this photo was taken, our guide was able to get the tilapia out of the bass's mouth and both fish swam off just fine! Very cool.



Some Of Our Five & Six Pounders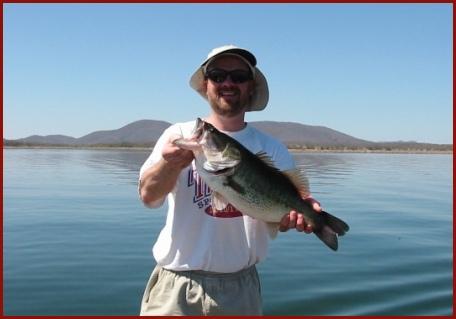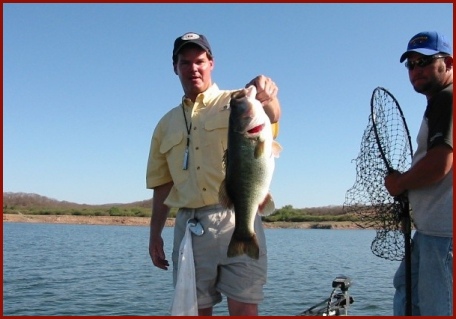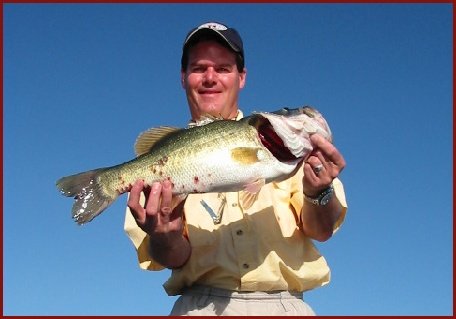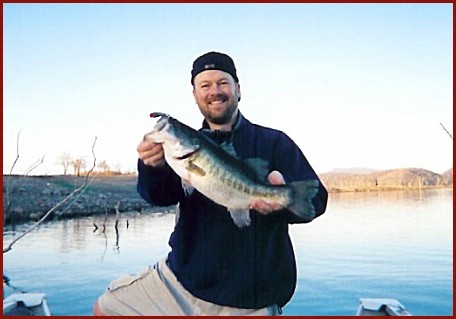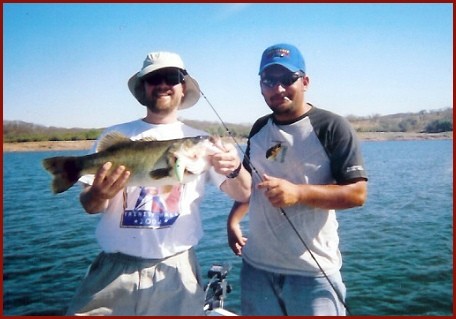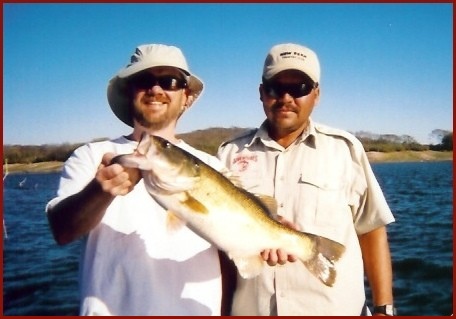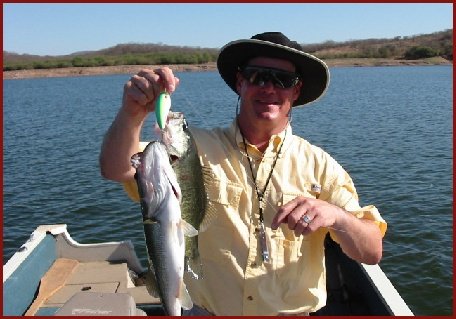 That bottom picture is of Jeff with two largemouth bass on one lure! That is very rare. We were fishing a flooded field of mango trees that was full of feeding bass. In about one hour of fishing there, we caught several five and six pounders on the "Fat Free Shad" crankbait. Man, that was fun.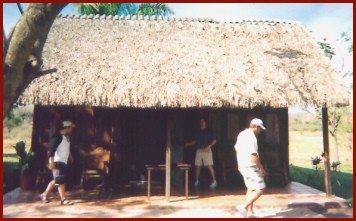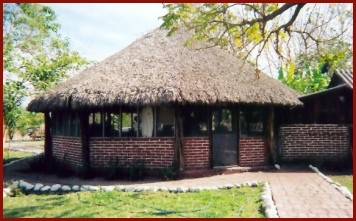 "Club El Salto"

The accomodations were fairly rustic - somewhere between Brushyland and the Rio Colorado Lodge in Red River, NM. The picture on the left shows the sleeping quarters. There are two very small bedrooms in that cabin and each bedroom contains two small beds and a bathroom. Each room also has a window A/C unit. Jeff and I stayed on the right side of that cabin. There are two or three other similar cabins so "Club El Salto" can probably hold a total of 12 to 16 anglers. But there were only four other anglers when we were there.

The picture on the right shows the pavilion in which all the anglers ate their meals. It is not air conditioned but there are screens all the way around it, allowing cool air to circulate quite well inside it. The pavilion has a satellite T.V. and a small kitchen.



Trip Details
Here are the boring details - for those who are interested.


The Outfitter
I arranged our trip through a guy named Kent Clifton who lives at Lake Fork, TX and works at WestSideAdventures.com. Kent is a broker for Ron Speed who owns "Club El Salto". Jeff and I stayed at Club El Salto, but there are two other places on the lake - The Angler's Inn and the Lake El Salto Lodge. These other two places supposedly have slightly better accomodations. But their fishing "packages" are $600 more (i.e. $1,595 versus $995). From what I hear, it's not worth paying the extra $600. Club El Salto was fine. It's sort of rustic but it's near the water, the staff was great, the guides were great. It was better than expected.


Total Trip Cost Per Person
The $995 mentioned above covers three full days of guiding, three nights at the lodge, all meals, all beer, all bottle water, all cokes, etc. Not bad! But there are other expenses:


Flights. You fly into Mazatlan. Round trip from Dallas is $450.
Round trip transportation to/from airport. Lake El Salto is an hour and a half drive from the Mazatlan airport. Club El Salto provided a nice, modern van to drive us there and back. Round trip cost was $85 per person.
Tips. They ask that each angler tips the guide $20 at the end of the day and that each angler tips the camp staff $10 per day. So total tips per person for this trip come to around $100.
Hotel in Mazatlan. After the third day of fishing you are driven to a very nice hotel in Mazatlan called the El Cid Hotel. It costs around $120 per night (i.e. $60 per person if two people share a room). The next morning Jeff and I had time to check out the beach before heading to the airport.

So the total cost (including airfare, guides, meals, tips, etc) of this trip per person is roughly $1,700.


What To Bring
You need to bring your own fishing gear - including rods, reels and tackle. The other lodges ask you to do this too. I actually prefer this. If you are serious enough to fly all the way to Mexico for some catch-and-release bass fishing then you are probably serious enough to want to fish with your own rods and reels. I bought a rod carrier at Bass Pro Shops that is designed for air travel. It worked great. I threw my tackle box and reels in my one piece of checked luggage and I didn't even have a carry-on. Before you head down to Mexico, you'll be told what lures the fish are hitting (most likely Carolina rigged lizards, crankbaits & swimbaits). The guides might loan you a lure or two, but there really isn't a tackle store down there. So you need to come prepared. Of course, you need to bring sunscreen. I noticed that the guides want to ensure that you have a fun time and will thus sometimes over-estimate the size of your fish. So be sure to bring electronic scales (as I did) to get accurate weights :)


The Daily Routine
Each morning you are woken up at 5am. You have a very good breakfast (eggs, bacon, OJ, etc) and then go fishing with a guide. There can be up to two anglers in a boat with a guide. There will be an ice chest in your boat loaded with beer, water & cokes. At noon you come in for lunch. Lupe (the guy who runs the lodge) will greet you with ice-cold towels when you come off the lake. Nice touch. After lunch you take a two hour siesta. Then you fish with your guide again from 3pm to roughly 8pm. When you come off the lake at night, there will be a plate of nachos and a pitcher of margaritas waiting for you in your room. Another nice touch. A few minutes later they will tell you that dinner is ready. The food is quite good. One night we had steak and lobster tail. The steak wasn't quite as good as here in the States, but the lobster tail was great.


The Time Of Year To Go
If I go again, I'll probably do it in early May again. Many say that is the best time to go. The spawn down there occurs in January so by May the fish are putting on weight again and are aggressively feeding. It got up to 95 degrees during the day but I really never felt miserably hot. The air is very dry down there and there's always an afternoon breeze which helps. It gets down to the upper 60's at night. So sleeping is very comfortable - especially if you have the window A/C unit on.


The Guides
We had a different guide for each of our three days. Each one of them was very good - and very friendly. The folks at "Club El Salto" (where we stayed) claim to have the best guides on the lake, but I'm sure places like The Angler's Inn have good guides too. All the guides speak a little English, and our favorite guide, Victor, spoke near perfect English. But that didn't stop Jeff and I from periodically trying our high school Spanish - which the guides found very humorous. The El Salto guides were very good. Maybe not quite as good as Jim Gore at Lake Fork, but better than the other American guides I've had. And they are completely unpretentious. No expensive fishing shirts. No fancy patches. No attitude. And they knew where the fish were - and if you told them it was okay for them to fish (which we did), they would catch bass left & right. Even more amazing was how they could get you unhung. El Salto has lots of timber so you will occasionally get your lure hung up - often twenty feet below the surface. Just hand your rod to the guide and after a few well timed yanks and jerks, you'll get your lure back without having had your line broken. Pretty slick.


The Boats
I never saw what brand of boat they use at "Club El Salto" but they appear to be 17 foot aluminum-hulled fishing boats. The medium-sized front deck is big enough for the fishing guide plus one angler. There's plenty of room in back for a second angler. The boats are just big enough for all three people to stand and fish comfortably - and safely. The seats don't swivel very well, but you could certainly fish from a seated position if desired. The boats are powered by a Yamaha 60 hp outboard and they each have a trolling motor.


About The Lake
Lake El Salto was created in 1986 by the damming of the Elota River. It is roughly 23,000 acres (Lake Fork, TX is 27,000 acres). But the size of El Salto varies greatly between the wet and dry seasons. The lake was stocked with Florida-strain largemouth bass. The bass seem to fight even harder than those in Texas do. The lake is only 600 feet above sea level (about what Dallas is) but it's surrounded by the rugged and scenic Sierra Madre Mountain range. The lake contains a lot of tilapia - which the bass feed on. Tilapia looks a little bit like a crappie and is served in many American seafood restaurants. The locals near El Salto set nets to catch the tilapia to make a little money. Every once in awhile your lure will get caught in one of the tilapia nets, but it doesn't happen much. Although my pictures don't happen to show it, El Salto has a lot of standing timber - as much as Lake Fork used to have. Jeff and I both prefer fishing stumps, logs and standing trees. In fact, most of our fish were caught in the timber on Carolina-rigged lizards. We even worked our crankbaits fairly close to stumps - sure we'd occassionally get one of the treble hooks caught on a stump, but it was worth the effort.

Return to my home page